By: Sunita Sohrabji / EMS
Jun 8, 2023
This is the oldest Chinatown on the East Coast. People worship here, celebrate and mourn here. It is the lifeblood of our community. – Neeta Patel, Executive Director, Asian Americans United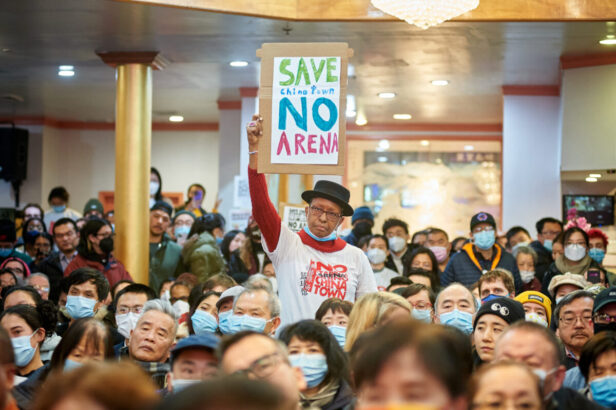 Twenty Asian American organizations are joining forces June 10 to protest the development of a basketball arena just a block away from Philadelphia's historic Chinatown, the oldest such neighborhood on the East Coast with roots back to the early 1870s.
A march will begin at 11 a.m. from Philadelphia's 10th and Vine Street, and continue to the steps of City Hall. A wide swath of speakers and entertainers will be featured at the demonstration. Extremely poor air quality currently looming over most of the Northeast is expected to dissipate by June 8; thus the event will continue, according to organizers.
Philadelphia's Chinatown is home to about 3,000 Chinese Americans, including many immigrants. It also houses hundreds of mom-and-pop small businesses, many of them legacies passed down from one generation to the next.
'Decimate Chinatown'
"Chinatown is a local hub where people feel safe to speak their own language, to walk the streets, to worship, to celebrate, and to mourn. It is a place where people feel at home," Neeta Patel, executive director of Asian Americans United, told Ethnic Media Services. Using its own money, and without funding from the city, the community has built schools, community centers, and places of worship. Chinese Americans come from areas throughout Philadelphia and beyond to enjoy the sense of community there, she said.
"The stadium would decimate Chinatown," stated Patel. AAU has led two previous attempts to develop the neighborhood: in 2000, it fought back a proposed stadium, and in 2008, against a casino. The community activist said that Philadelphia's Chinatown was one of the few "authentic" Chinatowns remaining in the US.
Billionaire Developers
In a classic David vs. Goliath battle, three billionaires — David Adelman, Josh Harris, and David Blitzer of the 76 DevCorp — have proposed building a sports and entertainment arena there, 76 Place, as home base for the Philadelphia 76ers, known locally as the Sixers. The team, owned by Harris and Blitzer, currently plays at the Wells Fargo Stadium in Philadelphia's "Stadium City," home to four stadiums all within blocks of each other.
Owning the proposed new stadium would allow the Sixers to stop paying rent to Comcast, which owns the Wells Fargo Stadium, and to reap additional profits from related products, such as concession stands. In an interview with Philadelphia magazine, Adelman said he has been meeting with community leaders to see how the proposal could benefit Chinatown. He has pledged to be "a good neighbor."
Adelman, a venture capitalist, is the CEO of Campus Apartments, which turns apartment buildings in gentrifying neighborhoods into student housing complexes. Harris is a private equity investor, while Blitzer is affiliated with the Blackstone Group, also a private equity firm.
Residents Overwhelmingly Opposed
Construction on the new site is scheduled to begin this September. 76 Place will officially open in 2031. A poll conducted by the Philadelphia Chinatown Development Corporation found that 93% of business owners and 94% of residents oppose the arena near the neighborhood. The website Philadelphia Sports Nation also criticized the impending project, noting that City Center already suffers from traffic congestion.
"Sixers game days are going to be impossible for anyone to get around the city whether it is fans attending the game or not. There is not nearly enough room to accommodate parking, and parking garages are a terrible idea when you're talking about this amount of people. Public transportation will need to run later and quicker which puts the union in a tough spot," noted the website, adding that one of the most unique things about Philadelphia is that all four sports stadiums are located within walking distance from each other.
In the interview with EMS, Patel challenged developers' assertions that the area is currently a dead zone. "It is the lifeblood of our community."
Promises Made, But Never Kept
The six-year construction project will destroy area businesses, she said, adding that when it is finished and open for business, mom-and-pop restaurants will have to compete for business with venture capital-backed concession stands. "It certainly will not draw business into Chinatown," said Patel. "This model will take away our regular customers. It keeps people at the venue for their food and drinks."
Patel pointed to Washington DC's Chinatown, a shadow of its former self after the Capital One Arena was built in the heart of the neighborhood in 1997. The area was once home to more than 20,000 Asian Americans: now, fewer than 300 remain. Rents have dramatically soared, and mom-and-pop businesses have given way to franchise chains.
"Many promises were made, but never kept," she said.