BySelen Ozturk/EMS
Members of the Bay Area's Turkish community are grieving at the monumental loss of life and property in their home country. Many are also wondering what comes next.
On Monday, February 6, around 4 a.m., a 7.8 magnitude earthquake hit Turkey and Syria. A week later, the death toll has passed 25,000 with tens of thousands more injured and homeless amid the rubble of thousands of flattened buildings.
Since news first broke early Sunday evening here, Bay Area members of the Turkish community have been reckoning with the death and destruction, and the accompanying uncertainty as the search for survivors continues.
Hulya Koc, co-founder of Santa Clara-based nonprofit Empowering the Turkish Community (ETAC), affirmed that, by the end of that week, many of her friends' relatives were still under rubble, awaiting rescue. "Each day brings greater certainty that they're dead, but some still hear screaming from buildings they pass."
The epicenter was 14.2 miles north of Nurdaği, a city in Gaziantep province, where southeastern Turkey borders northwestern Syria. Aftershocks continued throughout the day and across the region, the strongest measuring 7.5 and coming just 9 hours after the original quake and 59 miles north of the epicenter.
"The was geologically unique for two reasons," Koc said. "The length of the fault line" — it runs hundreds of miles, like the San Andreas fault which runs through the Bay Area — "and the shallowness. The shaking was so close to the earth, it had the effect of 130 atomic bombs."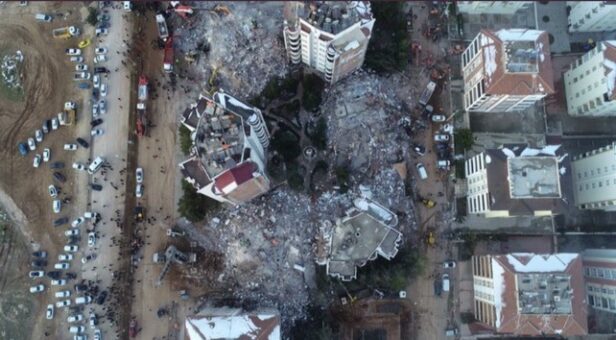 The quake was as strong as the most powerful on record in Turkey, which killed 30,000 people in December 1939.
While Koc is from İzmir, a city on the Western coast, she frequently visited southeastern Turkey as a child and, as recently as 2019, toured almost all 10 affected provinces.
On Tuesday, Turkish President Recep Erdoğan declared a three-month state of emergency in these provinces. Governments worldwide are pledging assistance and deploying aid as thousands of rescue workers dig survivors and corpses from the rubble. The United States announced on Monday that it would deploy two specialized search-and-rescue teams of about 80 members each, one out of Los Angeles County and the other out of Fairfax County, Virginia.
"On such a large scale," Koc said, "governments alone can't help. When we want medical equipment at this point, we're not talking painkillers but body bags and generators — and we don't have infrastructure to distribute them. Most of the roads connecting these cities are wrecked."
Since Monday, she has been collecting relief donations for rescue teams through an ETAC fundraiser. She has also been in contact with San Francisco staff, asking the county to send its own rescue team to the site.
Akin Keleş, an engineer in Foster City has been following volunteer search-and-rescue teams online while his maternal cousins remained under rubble in Hatay, Turkey's southernmost and worst-hit province.
Speaking on the difficulty these teams face in receiving supplies, he said, "We can't get help for the same reason we need it," said Keleş. "It's not a matter of infrastructure codes — many of the fallen buildings were new. Hatay Airport is new; the runway shattered in two. Landlines are down, there's no electricity, the internet is poor."
"In the first 17 hours," he said, "our government narrowed internet bandwidth, restricted all the ways we were communicating — Twitter, WhatsApp, Facebook, Instagram." By 72 hours, "we had minimal organization. The Turkish army numbers 100,000; 3,000 were on the ground. I'm surprised they accepted foreign teams at all."
Using WhatsApp to talk to his four affected cousins, Keleş learned that their building collapsed entirely. His father drove from his hometown to bring Keleş' aunt, uncle, and surviving young cousins to relative safety, 40 miles north. On the quake-torn roads, the drive took 7 and a half hours.
Nour, a research scientist in San Francisco who declined to give her surname, had paternal family from Hatay as well. Her cousins extracted her elderly aunt and uncle from the rubble of their apartment in Antakya, Hatay's capital. Next door, her aunt's mother, sister-in-law, brother, and brother's kids all died except for one nephew whose condition remains unknown.
"Almost everyone's home is destroyed," she said. "Only one of my cousins' homes is standing. Another of my cousin's wife and children died, while my other uncle's clothing store there was looted; people are that desperate."
Like Keleş, Nour has struggled to message surviving family over Facebook, WhatsApp, and Instagram due to narrowed regional bandwidth. Some of her cousins are so certain that supplies won't arrive early enough to save those they know that they ask her not to send anything at all.
"They'll probably go to Istanbul where the rest of my cousins are," said Nour, "but it's unbelievable to lose everything overnight and know there's nothing we can do about it."
"As an engineer I understand the extent of this devastation," added Keleş, "but the uniqueness of Mother Nature's cruelty can't be ignored. All the professors on TV here say the same thing — this cannot be compared, geologically, to the earthquake which affected İzmit , because it was so shallow."
After the city of İzmit in central Turkey was devastated, he said, "Turkey established a very comprehensive set of rules to follow so this would never happen again. The human factor — the corruption that led the building codes, inspection methods, and organization rules that could have prevented this to remain in the books — cannot be ignored. What happened, happened; what next?"